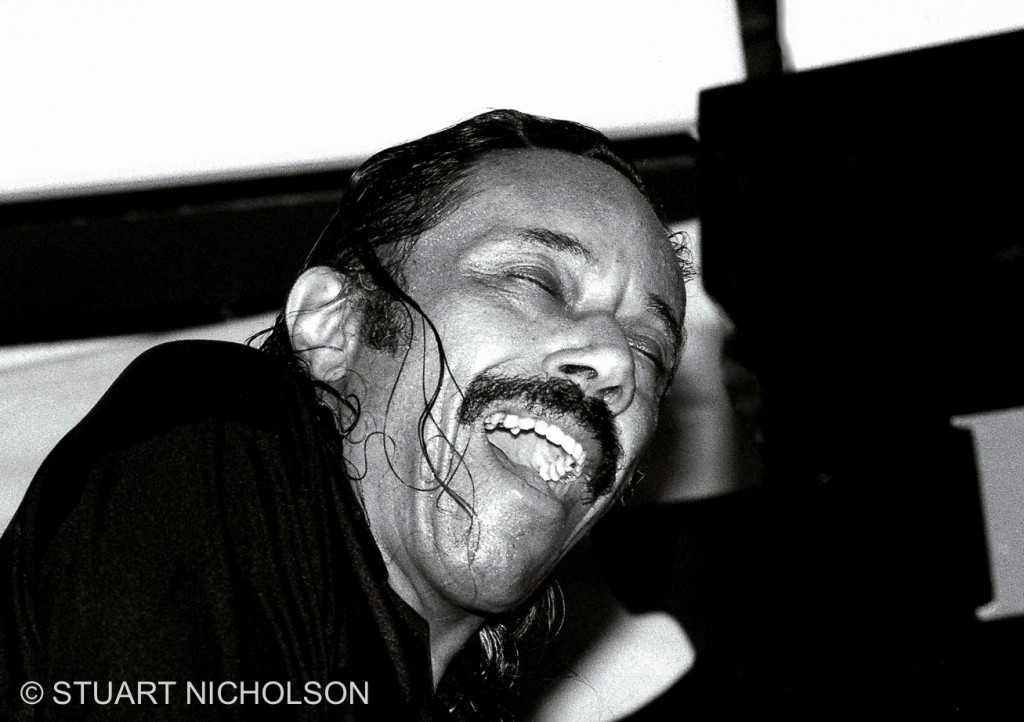 ---
'This is wonderful and needed', RAN BLAKE, Pianist, Composer, Recording Artist, Educator and Recipient of a MacArthur Genius Grant, former chair of the Contemporary Improvisation Department, New England Conservatory and currently faculty member at NEC.
---
Horace Silver helped define hard bop, but was in turn defined by it. It all began with a series of trio albums for the Blue Note label between 1952-3 under his own name that led to the formation of a quintet he co-led with Art Blakey on drums, plus Kenny Dorham, trumpet; Hank Mobley, tenor and Doug Watkins on bass. The album that resulted, Horace Silver and the Jazz Messengers, recorded in November 1954 and February 1955, hit upon a sound that set the standard for hard bop of the Fifties. All the numbers, bar one, were written by Silver and included two enduring originals, 'The Preacher' and 'Doodlin'', that were jukebox hits that later became jazz standards. Silver's catchy melodic themes played in a strong, punchy style allied to funky rhythms and story telling solos would become, to all intents and purposes, the template for much jazz that was to follow in the decade.
It was perhaps inevitable that two strong personalities like Silver and Blakey would go their separate ways, the latter retaining the name Jazz Messengers which carried on with Blakey as sole leader. Silver formed his own quintet, which on the one hand became a showcase for his compositions, while on the other, allowed his musical prowess to flower, not only as a composer, arranger and leader but also as a key soloist of the hard hop movement with the blues his forte. His group with Blue Mitchell on trumpet and Junior Cook on tenor, though less famous than many of Silver's subsequent sidemen, shared a sense of lyricism and hard driving energy that perfectly suited Silver's often challenging compositions. Every time they recorded they seemed to produce a classic; Silver's arrangements teed them up to launch into solos where Silver's probing, questing accompaniment — a fund ideas that often rose in prominence to something approaching a duet — seemed to spur them on to ever greater feats of derring do. After seven years together, when Cook and Mitchell inevitably moved on, neither soloist quite hit the heights they achieved with Silver.
The Mitchell/Cook period was when Silver's creative star shone its brightest — he was turning out melodies that his ensemble delivered with audible joy. If there was one overriding characteristic that separated this quintet from the rest of hard bop, it was the warmhearted, optimistic gusto with which they played, illuminating and deepening the cohesive spirit of the group on memorable albums such as Blowing the Blues Away, Finger Poppin', Silver's Serenade (whose title tune is a thing of beauty) and the live (and memorable) Doin' the Thing. Many songs from these albums were released as singles and enjoyed significant jukebox play, helping define the band to a broad jazz public and creating a demand for the band in-person — a partial listing of Silver 45rpm releases includes: 'The Preacher'/'Doodlin'', 'Room 608'/'Creepin' In', 'Señor Blues'/'Cool Eyes', 'Home Cooking''/'Backbeat', 'Soulville'/'No Smokin'', 'Come On Home'/'Finger' Poppin', 'Juicy Lucy'/'Cookin' at the Continental', 'Sister Sadie'/'Break City', 'Blowin' the Blues Away'/'The Baghdad Blues', 'Filthy McNasty' Parts 1 & 2, 'Doin' the Thing' Parts 1 & 2, 'Tokyo Blues' Parts 1 & 2, "Sayonara Blues' Parts 1 & 2, 'Too Much Saki' Parts 1 & 2, 'Silver's Serenade'/ 'Let's Go to the Nitty Gritty', "Sweet Sweetie Dee'/'The Dragon Lady','Que Pasa' Parts 1 & 2 and 'Song For My Father' Parts 1 & 2,.
'Song For My Father', from the album of the same name, proved to be his last real hit at a time when hard bop seemed to have run its course. On subsequent albums such as Cape Verdean Blues and Serenade to a Soul Sister (with an electric piano) Silver's writing began to sound routine. As Silver notes in our interview, he was beginning to feel the need to "stretch out" and try other projects. In 1970, his interest in Metaphysics (the branch of philosophy that deals with the first principles of things, including abstract concepts such as being, knowing, identity, time, and space and the fundamental nature of reality) provided the inspiration for a series of three albums under the collective title, "The United States of Mind". He introduced vocals for the first time on all the tracks of That Healin' Feelin' from June 18, 1970. With Randy Brecker on trumpet, Houston Person on tenor, Jimmy Lewis on bass and Idris Muhammed on drums, it was the first and better known of a trilogy that did not sit well with his fans or, as Silver conceded in our interview, Blue Note executives.
He was back on track with In Pursuit of the 27th Man from November 1972 that had a front line of Randy and Michael Brecker on some tracks and an experimental quartet with Dave Friedman on vibes on another. Still trying to stretch out compositionally, he began a series of generic albums, commencing with Silver n' Brass from January 1975 where his quintet— Tom Harrell trumpet, Bob Berg tenor, Ron Carter bass and Al Foster drums — wove in, out and around a brass choir augmented by Jerome Richardson and Buddy Collette on flute, soprano and alto saxes. It was followed in January 1976 by Silver n' Wood with the same quintet augmented by woodwind, and so on through voices, percussion and finally strings, the latter recorded between 1978-9, marking his swan song for the Blue Note label as they were the final Blue Note sessions under the United Artists imprimatur. It ended a 28 year association that had begun in 1952.
The United States of Mind trilogy and the Silver n' series seemed to highlight how hard Silver found it to escape the shadow of his distinguished past. The success of his classic Blue Note albums in the Fifties and early Sixties proved a hard act to follow, and it effectively typecast him at the head of a hard swinging, funky hard bop quintet. It was what the jazz public wanted even if Silver yearned to move on to other projects. He doggedly persisted in pursuing albums — five in all — inspired by his Metaphysical beliefs with tiles such as Guides to Growing Up (with a narration by Bill Cosby), Spiritualising the Senses, There's No Need to Struggle, The Continuity of Spirit and Music to Ease Your Disease on his own Silveto label, dedicated to "Self-help holistic metaphysical music". As the album titles suggest, finding an audience for music to save people's souls, however well intentioned, proved to be an uphill task. After more than 10 years of hassle, difficulties in finding a distributor for this kind of music and a general lack of appetite for what was on offer, he finally accepted, as I discovered in this interview, that the world was not ready for such a project and that while, "There's a small amount of people who dig it", it was, he conceded, "a very small amount of people!" As a result, he said, "I have to return to the straight ahead!" Which he did.
When I spoke to him, he had just wound up Silveto Records and had been signed by Columbia, and was about to release his debut album on the label, It's Got To be Funky, with the Silver Brass Ensemble. However, I knew nothing about all this since I was writing a feature for a national newspaper about how original Blue Note albums, such as Silver's Song for My Father and Six Pieces of Silver and Herbie Hancock's Watermelon Man and Maiden Voyage, had become popular with dancers in London clubs as a part of the then current Acid Jazz craze, subsequently becoming a source of funky samples used by DJ's and producers in rap music. A matter of months before we spoke, Us3's 'Cantaloop (Flip Fantasia)', based on samples from Hancock's 'Canaloop Island' and other classic Blue Note albums (plus a great trumpet solo from Gerard Presencer), had hit the charts to become the best selling Blue Note album ever until Norah Jones came along. Surprisingly, Silver, who had been a key figure in the hard bop movement, seemed to be keeping a low profile at a time when hard bop had returned to the jazz mainstream and, following the success of Wynton Marsalis', record companies were rushing around signing similarly oriented young jazz instrumentalists dubbed "Young Lions". So why wasn't Silver was out there, like Art Blakey, enjoying this unexpected Indian summer? I also wanted Silver to recount his story and talk about his classic Blue Note tracks that young people were dancing to.
Silver seemed pleased that somebody was sufficiently interested in his distinguished past to reach out and contact him, and he provided me with a fascinating interview with a lot more detail than I could have reasonably expected. Later he would go on to record another album with the Silver Brass Ensemble for Columbia, Pencil Packin' Papa, before moving on to Impulse! and then to Verve for what would be his final album, Jazz Has A Sense of Humour, in 1998. The profile the major record labels had given him ensured the kind of recognition he had not enjoyed for almost two decades was now coming his way and in 1995 he become the deserved recipient of a National Endowment for the Arts Jazz Master Award and a President's Merit Award. In his interview he spoke of touring during the summer months and not wanting to work "the year around" as he was "stretching for longevity!" Born on 2 September 1928 he got his wish. He died on 18 June 2014 at the age of 85.