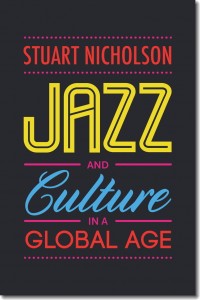 ---
'[A] milestone in the jazz genre. . . This is one of the most inspiring books about jazz I have ever read . . . a completely dazzling cultural survey.' — ORKESTER JOURNALEN  (Sweden)
'It is almost impossible to dispute Nicholson's erudition. The way he combines the musical narrative with the cultural is admirable and certainly places his arguments in context. Nicholson goes above and beyond the lofty goal he sets for himself, providing a breadth of historical coverage on his topic that is more than substantial. Moreover the book is satisfyingly lengthy…[and] is exceptionally well written…the prose Nicholson employs to present his information is witty, sharp and full of detail. One has to commend the breadth of Nicholson's theory. It is magnificently structured and very clearly unfolds from page to page…it is indeed a game changing publication. It highlights much that often goes ignored and dares to combat ideas that have since remained unchallenged.' Zara Simon-Ogan, THE UNIVERSITY OF GUELPH BOOK REVIEW PROJECT, (Canada).
'Jazz and Culture in a Global Age is Stuart Nicholson's Kind of Blue — a masterpiece.' — BOB BELDEN, saxophonist, arranger, composer, Blue Note recording artist, record producer, educator, historian and three times Grammy winner (USA).
'A classic…beautifully, skilfully written.'– RAN BLAKE,  pianist, composer, recording artist, educator and recipient of a MacArthur Genius Grant, former chair of the Contemporary Improvisation Department, New England Conservatory and currently faculty member at NEC (USA).
'Where most books on jazz focus solely on the music or musicians, this volume explores the form as an influential commodity of culture…It is a very well-constructed study of the way in which this distinctly American art form not only spread throughout the world, but did so in such a way that it was inextricably linked with America and its changing status in the global landscape. From how jazz was adopted and integrated as it entered other countries to the many expansions of the form in the modernist period to the place jazz now holds in a world of single-song downloads, Nicholson treats his subject with a healthy balance of reverence and objective analysis. He also covers a wide array of artists and styles in his examples, painting a very full portrait of an evolving craft.'—LIBRARY JOURNAL (USA)
'Noted British jazz writer Nicholson first takes on the state of jazz around the world today, surveying a broad spectrum of international music… Along the way, he poses some interesting questions about how music is not only performed differently in different cultures but may in fact be heard or understood differently. He enlists some cogent psychological theorising about our comprehension of music.'—BOOKLIST (USA)
'The writing is lively and [Nicholson] is great at summarising and making accessible cultural theory.' — JAZZGUITAR.COM  (USA)
'The British author Stuart Nicholson is one of the most astute observers and profound analysts of the international jazz development…His latest book, Jazz and Culture in a Global Age, continues this train of thought…[and] the jazz debate, as animated by Stuart Nicholson, is as exciting as the jazz.' — JAZZFACTS RADIO DLF (National German Radio)
'In today's world, rarely are there texts motivated by a well argued, healthy polemic. Jazz and Culture in a Global Age by Stuart Nicholson is one of those rare exceptions. The text is supported by an impressive body of data and documents investigating the position of jazz in contemporary society, a phenomena covered by massive political, economic and cultural factors that have now taken on a global scale…Jazz and Culture in a Global Age is a book that goes beyond mere music criticism, focusing rather on multi-disciplinary analysis, with large eyes and ears, of its chosen subject.' — JAZZIT (Italy)
'Stuart Nicholson is one of the most respected jazz authors around – mostly due to his masterfully opinionated work Jazz and Culture in a Global Age'. AUSTRALIANJAZZ.NET (Australia)
'Nicholson is a solid and respected author and his present work is rich and wide-ranging in source material. He covers much cultural ground in the course of his treatise and is often provocative, here and there critical of, for example, second-rate jazz 'literature' which has found its way to the market, but he is also most stimulating. He challenges his reader and you need to concentrate fully to take in all his points. This is much more than a book on jazz. Essential reading — I would compare it with another eminent work, Professor Wilfrid Mellers' Music in a New Found Land (from 1964) for its sheer range and quality of scholarship.' — DR. JAMES W. DICKENSON, AMAZON.CO.UK (Norway)
'Stuart Nicholson's new book poses important questions about the relevance of jazz in a modern, globalized society. Even more importantly, the cultural analyses, the perspectives and answers he provides are vibrant, compelling, and eminently thought-provoking. Jazz music must find ways to continue to speak to society. Nicholson shows how the stories told by jazz are, and must be, context dependent. The reception of American jazz throughout the world has been, for many, a part of something bigger: America's enormous cultural influence in general. For several years now, jazz may be seen as a global/universal phenomenon but Nicholson argues convincingly that this does not imply that jazz music has a universal meaning. It is heard and understood differently in different cultural contexts; the connotations and referential meanings conveyed by the music are not universal. The emergence of hybridized, localized forms of jazz is pointed out by Nicholson as the most significant evolution in jazz since the '70s; the 'Nordic Tone' is but one example. A fascinating, highly inspirational and highly recommended book.' — SVEN BJERSTEDT, Assistant Dean, Malmö Faculty of Fine and Performing Arts, Lund University, Sweden, AMAZON.CO.UK (Sweden)
'Stuart Nicholson has for many years been one of our most respected and deep-thinking historians-cum-commentators on jazz music and his latest book Jazz and Culture in a Global Age lives up to his previous works in every way. In a set of fascinating (and intellectually linked) essays his central themes include reflections on the shifting sources of jazz inspirations from their once all-American origins, the potential cultural conflicts within the music created by 'heritage respect' and the challenges of contemporary reflection, and —later in the book — a deeply perceptive account of the history of 'modern movements' in the music from its beginnings. Nicholson also has the perception (and courage) to focus closely but positively on the position of jazz in current popular culture; its regular (but misplaced) perception as an 'elitist' art-form, and also the internal conflicts which have again tended to weaken the emotional unity of jazz music in presenting itself for public survey. Such issues include the matters of diaspora, class-culture and even the tetchy (but recently revived) issue of 'black versus white'; a deeply regrettable movement which, as usual, Nicholson discusses positively and perceptively without resorting to the kind of subjective emotions which has been raised in the jazz community. Another strong point about his book is his exhaustive reference to a comprehensive span of (highly differing but authoritative) sources ranging from full-time American and European jazz performers to reliable critics, commentators and — equally — other cultural 'voices' whose work is set apart from the jazz genre but which clearly reflects the universal principles of art. One word of gentle warning; do not be put off by the intellectual banner flown by the title of this book. Both jazz lovers and performers have a great deal to learn from Nicholson's work and it will repay both a quick read and extended study.' — DIGBY FAIRWEATHER, Founder, Lifelong Patron,  National Jazz Archive UK. AMAZON.CO.UK (UK)
'Jazz and culture in a global age…is, for my money, Nicholson's grandest achievement…a heroic effort to be sure, this book reveals an exhaustive amount of research undertaken, which is evident in the thirty pages of notes at the end many of which provide analysis and further expansion of the chapter points and prose. The final chapter, "Jazz and Modernism," is a 100-page "tour de force" tracing a hundred years of cultural and artistic developments in the USA that leaves no stone unturned.' FRANK GRIFFITH, LONDONJAZZNEWS.COM (UK)
'I want to recommend Stuart Nicholson's Jazz and Culture in a Global Age. An eye and ear opening analysis of the international jazz development. Captivating.'  WULF MULLER, WULFMULLER.WORDPRESS.COM (Spain)
'If Prof Nicholson's autobiography of Ella Fitzgerald established him as the UK's leading authority on the people that 'made' jazz then his latest offering Jazz and Culture in a Global Age demonstrates a deeply empathetic understanding of the effect the genre has had on the ordinary man and woman around the world. As a music professional myself with a lifelong love of jazz it is this ability to put himself in the listeners' shoes that turns this book into a tour de force and reasserts Nicholson's reputation as an international jazz academic of the highest order. I thoroughly recommend this book to you.' AMAZON.DE
---
*Details from ResearchGate.net and SemanticScholar.org
---
---