---

---
BOOK CLUB CHOICE of DR. GERALD EARLY, for the monthly Book Club he hosts at Jazz St. Louis. Dr. Early is the Merle Kling Professor of Modern Letters, Professor of English and of African and Afro-American Studies, Director of the Center for Humanities, and Fellow of the American Academy of Arts and Sciences at Washington University.
---
THE BEGINNERS GUIDE TO JAZZ IS AN AMAZON #1 BEST SELLER 
'An important contribution to jazz history by one of our leading writers, whose scholarly and artful evolutional guide navigates the listener boldly through the world of jazz. It is marked by formidable research and a passionate commitment to distilling the styles and major moments in this century of jazz, that open the door and your ears to a truly beautiful journey.'  PROF/DR TOMMY SMITH, saxophonist, composer, arranger, Artististic Director of Jazz at the Royal Conservatoire of Scotland and Artistic Director,  Scottish National Jazz Orchestra (UK).
'Far more than a beginner's guide, this book is Stuart Nicholson's enlightened and enlightening view of jazz – enough so to make even experienced jazz fans listen with fresh ears.' BILL KIRCHNER, Musician, Educator, Producer and Editor of The Oxford Guide to Jazz (USA).
'Stuart Nicholson leads the reader on a step-by-step journey to unlock the mysteries of jazz. Though geared towards neophytes, the most seasoned jazz fan will learn much in these pages.' RANDY SANDKE, American Jazz Trumpeter and Guitarist (USA).
'More than a Beginner's Guide…students studying music and teachers, lecturers and tutors have a lot to learn from this book'. JAZZITOUT.COM, (South Africa).
'A very enjoyable read'. AUSTRALIANJAZZ.NET, (Australia).
---
---
THE BEGINNERS GUIDE TO JAZZ IS AN AMAZON #1 BEST SELLER 
---

---
---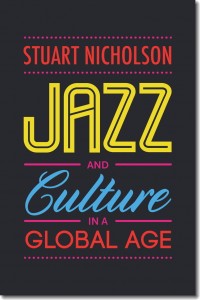 '[A] milestone in the jazz genre. . . This is one of the most inspiring books about jazz I have ever read . . . a completely dazzling cultural survey.' ORKESTER JOURNALEN  (Sweden)
'Jazz and Culture in a Global Age is Stuart Nicholson's Kind of Blue — a masterpiece.'  BOB BELDEN, saxophonist, arranger, composer, Blue Note recording artist, record producer, educator, historian and three times Grammy winner (USA)
'It is almost impossible to dispute Nicholson's erudition. The way he combines the musical narrative with the cultural is admirable and… is exceptionally well written…One has to commend the breadth of Nicholson's theory…it is indeed a game changing publication.' THE UNIVERSITY OF GUELPH BOOK REVIEW PROJECT (Canada)
'Noted British jazz writer Nicholson…poses some interesting questions about how music is not only performed differently in different cultures but may in fact be heard or understood differently. He enlists some cogent psychological theorising about our comprehension of music.'—BOOKLIST (USA)
---
Chapter 8  of Is Jazz Dead (Or Has It Moved to a New Address)? — 'The Nordic Tone In Jazz' — was anthologised by ROBERT WALSER in KEEPING TIME: READINGS IN JAZZ HISTORY (Oxford University Press, New York, 2015, 2nd Edition) described as 'The single most valuable jazz-history resource (print or otherwise) available today.'
'Is Jazz Dead (Or Has It Moved To A New Address) came out in 2005…[and] soon became an oft-quoted, highly influential text which ended up playing a major part in the renaissance of Nordic jazz.' FINNISH MUSIC QUARTERLY (Finland)
'There is no doubt that this is one of the most important books about jazz.' JAZZNYTT (Norway)
'Nicholson's thesis is important, and he supports it persuasively.' JAZZ TIMES (USA)
'The author is very well informed. He has a deep insight into the music.' INTERNATIONAL ASSOCIATION OF SCHOOLS OF JAZZ NEWSLETTER (Holland)
'Stuart Nicholson provides an admirably clear-sighted and culturally-sophisticated examination of recent developments in the US and Europe.'  INDEPENDENT ON SUNDAY (UK)
---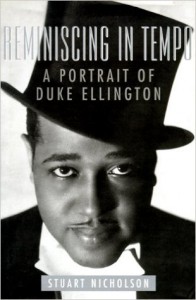 ---
MAIL ON SUNDAY – 'BOOK OF THE WEEK'
THE SUNDAY TIMES – 'SUMMER READING LIST: THIS YEAR'S BEST TITLES' 
---
'Like the Ellington suite for which it is named, Stuart Nicholson's copiously researched appreciation of Duke Ellington's life and art is a work of unobtrusive joy.' NEWSDAY (USA)
'Mr. Nicholson's book takes a permanent place in the essential bibliography of America's greatest composer, one that will prove informative and delightful to neophytes and Ellington experts alike.' GROVER SALES, THE WASHINGTON TIMES (USA)
'This intimate, eminently readable biography…was assembled with love, respect and reverence without losing its sense of balance and accuracy…painted in full and vibrant hues, giving short shrift neither to Ellington's inestimable importance as a musician or his fascinating personality and character. Highest recommendation.' THE SAN DIEGO UNION TRIBUNE (USA)
'Nicholson…is a serious jazz historian and a gifted writer.' JAZZ NOTES (USA)
---
---
FINALIST IN THE 1999 ARSC AWARDS FOR EXCELLENCE IN MUSIC WRITING
---
'Well written and detailed, the book is the first to provide such a thorough view of jazz in the crossover decades.' LOS ANGELES TIMES (USA)
'Impeccable musical scholarship.' KIRKUS REVIEWS (USA)
'Nicholson brings to his current subject the same degree of level headed scrutiny that characterises his early works. That he is well grounded in his material is obvious from his objective analysis of some hundreds of groups and some thousands of recordings.' JAZZ TIMES (USA)
'Nicholson has the musical skills to write authoritatively about the movement, and he writes with integrity and honesty…few jazz books are more balanced or more complete.' NASHVILLE SCENE (USA)
---
A NEW YORK TIMES  'NOTABLE BOOK OF THE YEAR'
FINALIST  ARSC AWARDS FOR EXCELLENCE IN MUSIC WRITING
'Stuart Nicholson's Billie Holiday is intelligent and well written…His remarks are often original, putting order into her chaos by dissecting every artistic move.' NED ROREM (Winner of the Pulitzer Prize for Music in 1976), THE NEW YORK TIMES REVIEW OF BOOKS  (USA)
'The book is laid out in scholarly fashion…[his] genealogical work is impressive…[and his] description of Holiday's drug use sophisticated and thoughtful…This is a very professional biography and probably the standard for the future.' POPULAR MUSIC AND SOCIETY (USA)
'With perhaps more success than any other biographer so far, Nicholson illuminates complexities in [Holiday's] personality, her art and her times that made the singer a phenomenon of American culture. As good as he is in biographical detail, his greatest contribution is perspective on the singer's creative process.' JAZZ TIMES (USA)
'Nicholson's polished, just-the-facts approach to biography…is valuable when it comes to chronicling Billie Holiday's tumultuous life…We feel free to praise Nicholson for his precise and eloquent analysis of Holiday's incomparable music.' BOOKLIST (USA)
---
A NEW YORK TIMES  'NOTABLE BOOK OF THE YEAR'
No.2 in OFF THE  SHELF'S   '10 MUST READ BIOGRAPHIES OF OUR FAVORITE AMERICAN ICONS'. 
'Stuart Nicholson's Ella Fitzgerald: A Biography of the First Lady of Jazz…included so much documented factual material…that the book currently stands as the most authoritative biography about her.  Nicholson's book is,  for the most part, used as a criterion for accuracy and virtually everything written about Ella before it appeared must be revised.' THE ELLA FITZGERALD COMPANION (Omnibus Press, New York, 1998)
'Mr. Nicholson does a very fine job…with clear eyed intelligence.' THE NEW YORK TIMES REVIEW OF BOOKS (USA)
'This is a well researched, gracefully written biography.'  BOOKLIST (USA)
'The first factually reliable account of Ms. Fitzgerald's life.'  WALL STREET JOURNAL (USA)
'A biography of erudition and style…a model, not only of research but of musical insight.' THE OBSERVER (UK)
'Nicholson is a jazz buff and a shrewd critic.' THE TIMES (UK)
---
'A meticulous survey of the decade…you can't fault Nicholson for his enthusiasm, taste or intelligence.' JAZZ TIMES (USA)
'Nicholson has an open-minded approach, his evaluations of recordings are intelligent and informative and his narrative flows smoothly from one musician to another… highly recommended.'  JAZZIZ (USA)
'Nicholson's book has the advantage of a wide-eared approach…it accurately treats jazz as a pliable, living tradition.'  DOWNBEAT (USA)
'Jazz: The 1980s Resurgence offers an indispensable look at the most confused decade in the history of jazz…a wonderful resource.' SCHWANN SPECTRUM (USA)
---
---
---