By the time saxophonist David Murray made his major record label debut with Ming's Samba in 1989, he had already released thirty-eight albums for small independent labels. Although he was still only 34,  a red label stuck to front sleeve proclaimed 'Five New Pieces From Jazz Legend David Murray!'  At the time it didn't seem a claim that was wide of the mark. Active on the New York scene since 1975 and named Musician of the Decade by Village Voice in 1980, he had been regularly celebrated  in the jazz press and opinion forming newspapers such as The New York Times and The Village Voice and was enjoying unprecedented acclaim for  a musician associated with jazz's avant garde.
The David Murray Quartet 1989: John Hicks (p); Murray (ts); Ray Drummond (b) and Ed Blackwell (d).
Yet with the rise of Wynton Marsalis and the  Young Lions in the 1990s, Murray's profile in jazz receded, almost, it seemed, in direct proportion to his prolific creativity that included ten albums between 1988 and 1997 for legendary producer Bob Thiele, a 'Tribute to Paul Gonsalves' adapted for the Boston Philharmonic Orchestra in 1990, his 'Obscure Work of Duke Ellington' project arranged for a big band and a 25-piece string orchestra in 1997, extensive touring with the Fo Deuk Revue and the Gwo Ka Masters, the operas 'The Blackamoor of Peter the Great' in 2004 and 'The Sysiphus Revue' in 2008, an update of the Nat King Cole Hispanic songbook called 'Cole in Spanish' in 2009, collaborations with Macy Gray and in 2016, the release of the album Perfection with pianist Geri Allen and drummer Terri Lyne Carrington — and, of course, much more in between.
Today, looking back on his earlier career,  it seemed as if David Murray ensembles came and went in a blink of an eye. Fortunately, he left a trail of albums in his wake that documented his activities during this exceptionally creative period, some of which have been re-released, such as his work for the Black Saint (his five Octet recordings come particularly recommended) and DIW labels, while  others need tracking down through specialist  online jazz traders and sites such as Amazon and E-Bay. The question is, where to start?
David Murray
Among the most satisfying of his earlier albums were those in a quartet setting with pianist John Hicks. Together with either Fred Hopkins or Ray Drummond on bass and Ed Blackwell on drums, they provide an in-depth examination of his saxophone style that at the time was widely praised for its simultaneous embrace of the whole jazz tenor saxophone tradition — from Coleman Hawkins, through John Coltrane to Albert Ayler — while appearing to blaze a fresh trail of his own. Certainly, the jazz scene in the 1980s and early 1990s was a richer, livelier and more colourful place thanks to Murray's prolific output.
John Hicks
On Ming's Samba, Murray is joined by Hicks, Ray Drummond and Ed Blackwell. The album opens with the title track, which  is effectively a saxophone tour-de-force that also introduces the band members. What is remarkable today, in an era when so many saxophonists share both a similarity of concept and execution, is the unmistakably original and instantly recognisable approach to improvisation that Murray displays.
The main characteristics of his style were wide intervallic leaps, a very personal and identifiable sense of melodic construction, command of the whole rage of the saxophone — from notes beyond the normal range of the instrument to a robust Bb belltone — a tendency to sub-divide the beat into unusual groupings of notes to give his line momentum and a compelling rhythmic drive, all of which can be heard on the title track. Opening  with the kind of energy and focus lesser saxophonists use to climax their solos, never mind begin them,  idea after idea comes tumbling out of his saxophone that seem  in tune with the jagged skylines and endless rhythms of New York City.  Throughout, he sustains  a remarkable level of invention that's as breathtaking as it is audacious.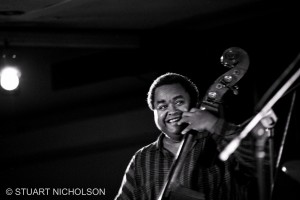 Ray Drummond
"Rememberin' Fats,' dedicated to Fats Waller, appropriately features John Hicks in a good-timey romp. Murray's ballad style is impressive on 'Nowhere is Everafter,' simply because of his ability to move from caressing the melody in sub-tone to sounding dangerous and on the edge in the space of a beat. This is often achieved, as it is here, by using 'false fingering' to achieve notes beyond the normal range of the instrument. It's one of the hallmarks of his style, but it never sounds forced. The piece was written by cornetist 'Butch' Morris, a frequent Murray collaborator who pioneered 'conduction,' a method of conducting a free jazz performance by means of hand and baton signals to structure spontaneous improvisation in real time. He also wrote 'Spoonin,'' the swirling tango that follows which produces a wholly integrated and compelling performance from every member of the quartet. Murray's own 'Walter's Waltz' closes the album and is a feature for bass clarinet, an instrument that never swung harder than when it was in Murrsay's hands.
Ed Blackwell
Throughout Ming's Samba there is an edge to Murray's playing created by the knowledge that at any moment his inside playing might veer outside and into the outer reaches of the avant garde. He never does, but by hinting that he could, if he so wanted, with a high register shriek or side-slipping run was enough to give his music a powerful inside/outside duality and a sense of danger that was at the heart of his musical conception and the source of  its effectiveness. By mixing avant garde rawness with a variety of approaches that spanned the vast legacy of jazz, Murray's music rang with truth as much as it redefined the tradition.
In many ways Murray represented a kind of one man counter-culture to 1980s-1990s neo-traditionalism by redefining the tradition rather then merging with it, something those of a more purist disposition found hard to forgive. As he told me in an interview in 2004, 'To me, in jazz it's that edge. You don't want it to be too perfect because then it might as well be supermarket music. The thing is, [Duke] Ellington knew that too; if you're not taking risks then you're not playin' jazz.'