In March 1983, Gil Evans embarked on a short tour of the UK. It would mark the first time he had played his music with an orchestra other than his own, a British band assembled at his request by saxophonist John Surman with a little help from Don Weller.  The tour opened at The Roundhouse in London where the band played on Monday 14th and Tuesday 15th March  as part of the Camden Jazz Week. Both dates were recorded by the BBC,  the first concert was broadcast on Radio 3 on 6th November and the second on BBC Radio London on 2nd January 1984.
Gil Evans and his British Orchestra: l to r John Marshall (d); Mo Foster (b); Chris Hunter (as); Rick Taylor (tb); Ray Russell (g); Malcolm Griffiths (tb); Henry Lowther (t); Don Weller (ts);  Guy Barker (t); Stan Sultzman (ts); Gil Evans (p); Miles Evans (t); John Taylor (key); John Surman (bar; ss; elec).
Next up in Evans's short UK tour was St. George's Hall in Bradford on 18th March, which was again recorded, this time by Mole Records, and released as Gil Evans: The British Orchestra. It marked a major event in British jazz, presenting many of its leading figures under the leadership of the legendary American arranger and bandleader whose work encompassed pace-setting recordings with Miles Davis and jazz classics under his own name, such as Out of the Cool  and  The Individualism of Gil Evans. 
---
Gil Evans: The British Orchestra is not short of highlights and shows up well alongside the albums Evans made during the final decade of his life — he died in 1988. It opens with 'Hotel Me,' a composition credited to Miles Davis — interestingly, the previous month Evans had been acting as musical consultant for Davis at the recording sessions of Star People, such was the strength of their continuing relationship.  After a groove is established by drummer John Marshall (who is not given credit on the original Mole Jazz album sleeve), the brass perfectly capture Evans's languid way of writing before solos from Stan Sultzman and John Surman make clear this was not some insipid echo of Evans's fine American bands — different, yes,  but  capable of wringing depth and profundity from Evans's charts.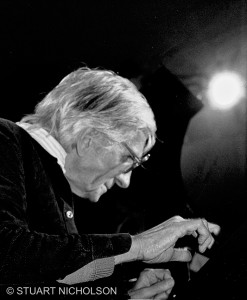 The band segue into Thelonious Monk's 'Friday The 13th," presenting Malcolm Griffith's lusty trombone, plus Sultzman and Surman on soprano saxes who here perhaps loose sight of the composition's direction of travel. 'London' was commissioned by the Camden Jazz Festival with funds made available by the Arts Council and had been debuted at their opening concert on 14th March. It features Surman again on soprano saxophone, and Chris Hunter on alto. It was as a result of this tour that Hunter was invited to join Evans's band in New York, shortly to take up residence on Monday's nights in Greenwich Village's Sweet Basil jazz club. The final track, Jimmi Henrix's 'Little Wing,' features the guitar of Ray Russell, who captures the  mood and intent of Evans's writing, fitting perfectly into the loose ensemble textures.
The final date of the tour was in Glasgow, where bassist Mo Foster and guitarist Ray Russell invited Evans to make a guest appearance  with their band RMS at the Montreux Jazz Festival in Switzerland, which Evans readily agreed since he was already booked to play there with drummer Billy Cobham. His performance is captured on a DVD RMS with Gil Evans: Live at the 1983 Montreux Jazz Festival where he appears on two Hendrix songs, 'Stone Free' and 'Little Wing' and Gershwin's 'Gone, Gone, Gone.' In the horn section was trumpeter Henry Lowther and trombonist Malcolm Griffiths, who had also been members of the British Orchestra, providing an interesting postscript to a musically fascinating episode in British jazz.