Sonny Rollins wrote himself into the pages of jazz history on June 22, 1956 with a series of nonpareil performances on the album Saxophone Colossus. From the moment it was released it was hailed as a classic. But for the twenty-five year old saxophonist it was just another session during a remarkable creative high that spanned almost three years. During that time he recorded fifteen sessions under his own name that began with Worktime in December 1955 and ended with Freedom Suite in 1958, taking in Saxophone Colossus and Way Out West plus the classic Blue Note session A Night at the Village Vanguard for good measure.
---
---
---
---
By any standards this was an astonishing period of creativity. It saw Rollins prising jazz from the grip of Charlie Parker's influence, whose legion of followers mistook speed for content and ended up creating solos that seemed like one enormous glissando. In contrast, Rollins demonstrated that jazz improvisation could be sustained for lengthy periods with great cohesion, subtlety and even wit. With sometimes blunt, sometimes asymmetric phrasing and always a big powerful tone, his style was unmistakable. Before your very eyes he seemed to dismantle songs and reassemble them in new and interesting ways, a feat performed with such clarity of purpose you could almost hear him thinking.
---
---
Sonny Rollins: His solos were propositions, cerebral inventions that sounded as if they could be spun endlessly
---
---
His solos were propositions, cerebral inventions that sounded as if they could be spun endlessly, rather than the pronouncements of an Armstrong or a Parker, which seemed to arrive etched in stone. "I always stress that music never ends, it just continues, there is no real cut off," he told me in a previous interview published by Jazz Express. His improvisations are a beguiling mixture of the vertical and the horizontal – governed as much by the underlying harmonic sequence (vertically) as the development and thematic variation of a melodic idea (horizontally). Ever since "Blue Seven" from Saxophone Colossus, shrewdly analysed by Gunther Schuller in the pages of the then highly influential Jazz Review, Rollins has, over the years, developed and refined this creative process into a unique art.
---
---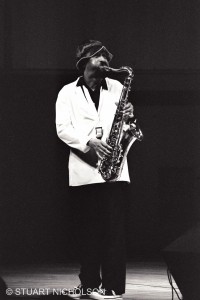 Sonny Rollins: Jazz Master
---
---
So what goes through his mind when creating one of his majestic, hypnotic solos that brings you to the edge of the seat with a mixture of awe and admiration? Ten years earlier he had touched on his creative process for me in his Jazz Express interview, when he talked about thematic unity in his solos, "You have to create around a fixed pattern yet still leave the creative element sounding free," he explained. "The essence of freedom in improvisation is something that is very creative, yet very formal; the ability to create something very spiritual, something of one's own." After inviting him to talk about aspects from his distinguished past,  this seemed an interesting point to pick up again in order to  explore in a little more depth the art of Sonny Rollins.
---
---
---
---
---
---