'Stuart Nicholson's Ella Fitzgerald: A Biography of the First Lady of Jazz…included so much documented factual material…that the book currently stands as the most authoritative biography about her. Nicholson's book is, for the most part, used as a criterion for accuracy and virtually everything written about Ella before it appeared must be revised.' LESLIE GOURSE, THE ELLA FITZGERALD COMPANION (OMNIBUS PRESS, NEW YORK, 1998)
Some twelve weeks after my first book Jazz the Modern Resurgence  was published, I signed a contract with Victor Gollancz Ltd. on 'the 28th Day of November 1990,' to write a biography of the jazz singer Ella Fitzgerald. Countersigned on behalf of the company by Jane Blackstock, I was contracted to deliver the finished manuscript 'before 31 May 1992.' The idea was the book should be published to coincide with  Ella's 75th birthday celebrations.
At the time, it was the biggest challenge of my life — writing a biography, which I had never done before, about one of the major figures in jazz for one of the leading publishing houses in the UK and edited by Richard Wigmore,  widely regarded as one of the most knowledgable music editors in the publishing business. So no pressure then.
At least I was sure of one thing —  no matter who you were in the USA, you would leave footprints in the sands of time that could be traced from birth to death through public records — birth registration,  census records, school records, marriage licences, police records, FBI records, hospital records and so on. So from the very beginning there was a lot of fact-checking to do.
While doing 'due diligence' on Ella's life in the New York Public Library, I was put in touch with researcher Marsha Saron Dennis, formerly chair of the Jewish Genealogical Society in New York City. We quickly formed a wonderful working relationship (Marsha and her husband Bob remain dear friends to this day) with Marsha playing a key role in getting many important facts about Ella's life straightened out. The first was getting Ella's date of birth right.
In response to her enquiries to confirm Ella's date of birth, the Department of Health for the Commonwealth of Virginia said although a copy of her birth certificate was not available, they nevertheless were able to confirm her date of birth as 25th April 1917:
The letter that changed a little bit of jazz history. It was reproduced in all my biographies of Ella Fitzgerald. Marsha's personal details have been removed.
This was an amazing piece of information. All the jazz reference books at the time — The New Grove Dictionary of Jazz, Leonard Feather's Encyclopaedia of Jazz and so on, every history of jazz, previous biographies, album liner notes — you name it — had Ella's birth year as 1918. And in the past, Ella's 'big' birthdays — her 40th, 50th, 60th and so on — had all been celebrated in style at places like Basin Street East, Carnegie Hall and the Hollywood Bowl based on 1918 as her birth year. I double checked the information by phone. There could be no doubt, the  information was indeed correct.  Here I was writing a book on Ella's life to coincide with her 75th birthday,  the date on which she would be celebrating her 76th!
Thanks to Marsha's help we were able to come up with a whole raft of previously unpublished information about Ella, who was a very private person to whom the past was a country she did not visit. When Norman Granz, Ella's long time manager and confident and founder of Verve records, read the UK edition,  published by Gollancz in 1993 while on a London visit (Granz then had a London apartment), he contacted me to say he was amazed how much previously undocumented material about Ella we had turned up that he didn't know, adding, 'But I always thought there was something funny about her date of birth.'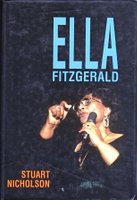 He never said why, but since the book was due to be published in the USA the following year, he responded to my suggestion that we go through the book page by page to make any corrections necessary plus, I added hopefully,  he might like to add any thoughts and anecdotes about Ella along the way.
Although Granz kindly obliged, he didn't want any credit, but every word of the American version of Ella's bio, published by Charles Scribner's Sons in New York in 1994, was fact checked by him as well as adding additional information that gave valuable insight into Ella's life.  He'd also say, 'Why don't you talk to so-and-so about this, here's his number.'  Since then, the facts that we discovered about Ella all those years ago have passed into the public domain  and, sad to say, have been shamelessly plagiarised by others (including word for word cut n'pastes of my original text!!). One author in a 2008 biography of Ella even claimed co-credit in discovering Ella's birthyear was in 1917!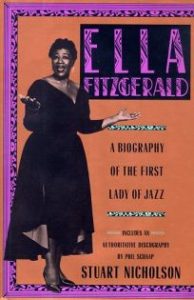 Shortly after publication in the USA of Ella Fitzgerald: A Biography of the First Lady of Jazz in the USA I was commissioned, again by Jane Blackstock of Gollancz,  to write a biography of Billie Holiday. I considered myself very fortunate that once again Granz afforded me the same kind of assistance with Billie as he had done with Ella.  It became clear during our many conversations that Billie  was an artist whom he greatly respected and had great deal of affection for, despite her travails.  Once again I would send him a chapter and once again we went through the same routine. After that was done, he said 'What can you find out about me?'
By way of thanks we sent him certain information, and from then until shortly before he died in November 2001 he phoned me every six weeks or so to talk about the latest developments in jazz and reminisce about his amazing career. These wonderful, long conversations where I privy to his experiences and opinions about jazz were never recorded — at his request, so he felt free to speak his mind — but were hugely influential in shaping my aesthetic about jazz past and present. Often our conversations were prompted by a piece I had written in the pages of The Observer, since I regularly contributed to that (great) paper throughout the 1990s. Granz got his copy in Geneva before mine was delivered in the UK, and at 12 noon on a Sunday he would phone, often using something I had written to start the conversation by taking a contra point of view, and I was expected to argue my corner! Always 12 noon. Always a Sunday. Interesting times indeed….